Mesin press divulkanisir besar / kontrol PLC
Plat vulkanisir press dilengkapi dengan kontrol PLC diprogram, yang dapat mengatur tekanan, suhu, waktu, frekuensi melelahkan dan jumlah detik dengan manusia-mesin antarmuka sistem operasi. T mesin vulkanisir press besar nya berlaku untuk kompresi dan molding karet, plastik, resin dan bahan polimer lainnya.
Parameter:
Capacity

200T

Temperature range

Normal temperature ~ 300 ℃

Pressing plate size

300 X 300/350 X 350/400 X 400/450 X 450/500 X 500/

550 X 550 mm

Distance of pressing plate

100 mm

Exhausting frequency

0 ~ 10 times can be set

Oil pressure medium

Mobil 32# antfreeze hydraulic oil

Power supply

3 ∮, five lines
Spesifikasi:
1.Controller: PLC layar sentuh warna diprogram memiliki antarmuka manusia-mesin Semua parameter operasi dapat diatur dan dikontrol sesuka hati. Tekanan cetakan kurva proses dan vulkanisasi dapat ditampilkan secara dinamis
Metode 2.Heating: tabung Electro-termal
Metode 3.Cooling: pendingin air Tap
Lapisan 4.Working: Dua lapisan. Pemanasan pelat bagian atas, pendinginan pelat bawah yang lebih rendah.
5.Oil sistem tekanan: Sistem kontrol loop tertutup proporsi aliran katup hidrolik dengan fungsi kompensasi otomatis dan waktu tunda berhenti dari tangki bahan bakar.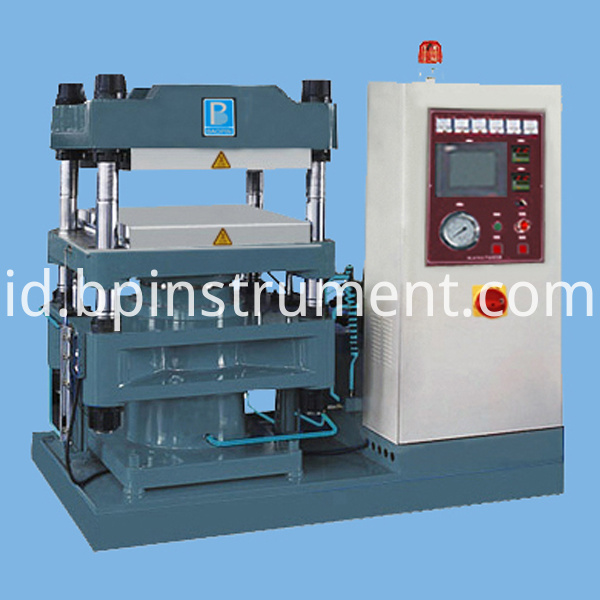 Kategori Produk : Lab Tablet Press Series