PLC extruder sekrup mini desktop tunggal
Desktop kecil extruder sekrup tunggal eqiuipped dengan sistem kontrol PLC, dapat mengatur dan memonitor semua parameter.
The small plsatic single screw extruder is suitable for polymer processing molding, especially for a small amount of samples for scientific research and development, to simulate the plastic processing of various aspects of continuous and discontinuous process, especially suitable for the teaching and research and development.
Plastik desktop yang tunggal screw extruder kecil dan nyaman, itu adalah pilihan terbaik untuk uji laboratorium dan produksi skala kecil.
Parameter:
| | |
| --- | --- |
| Screw diameter | 20 |
| Length diameter ratio | 1:25 |
| Screw speed | 0 - 90 rpm frequency control |
| Power supply | 3 ∮, 50 Hz, 5 lines |
Keterangan:
1. Screw / barrel bahan: M ade 38CrMoAl kromium-molibdenum baja.
Zona 2. Pemanasan: Empat pemanas mika di bidang pengisian barel, satu pemanas berada di area handpiece. Setiap area memiliki kipas pendingin tembaga yang ditutupi dengan perisai angin keamanan.
3. fasilitas Cooling: Tiga kelompok penggemar multi-sayap untuk mendinginkan udara dengan tenang dan kuat.
4. Sistem Mengemudi: Presisi bermotor pengurangan gigi dan perlambatan distribusi rotasi integrasi.
Sistem 5.Electric kontrol: PLC diprogram layar sentuh warna, manusia-mesin sistem operasi antarmuka.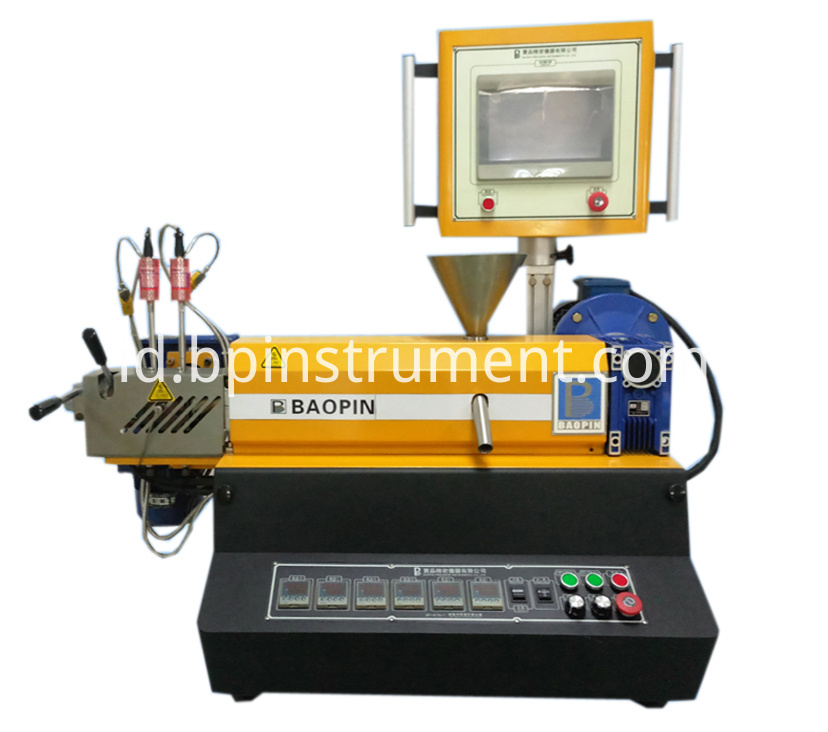 Kategori Produk : Lab Extruder Series