Lab twin screw granulation line / kontrol PLC
Lab kembar sekrup baris granulasi ini terdiri dari perangkat transmisi, perangkat ekstrusi, pemanasan dan pendinginan sistem, sistem kontrol listrik, dll
Lab granulasi jalur yang tepat untuk percobaan pengolahan pencampuran plastik rekayasa, plastik diubah, limbah plastik dan warna masterbatch dll, s uitable untuk semua jenis plastik granulasi ekstrusi, plasticizing homogen, pemeriksaan warna, mengisi modifikasi, dll
Parameter:
1. Double screw extruder
Screw diamete

Length diameter ratio

1 : 40

Screw speed

0 - 120 rpm

Control system

PLC system controller

Power supply

3

∮, five lines
2. Pendingin tangki air
| | |
| --- | --- |
| Tank material | 304 stainless steel bath |
| Fan | 0.15 KW silent blow dry fan |
3. Perangkat granulasi
| | |
| --- | --- |
| Strand quantity | 3 strands |
| Cutting length | 1 ~ 3 mm cutting tool adjustable |
| Traction speed | 1 ~ 30 m/min frequency adjustable |
| Cutting speed | 1 ~ 35 kg/h adjustable |
| Motor | 0.75 KW |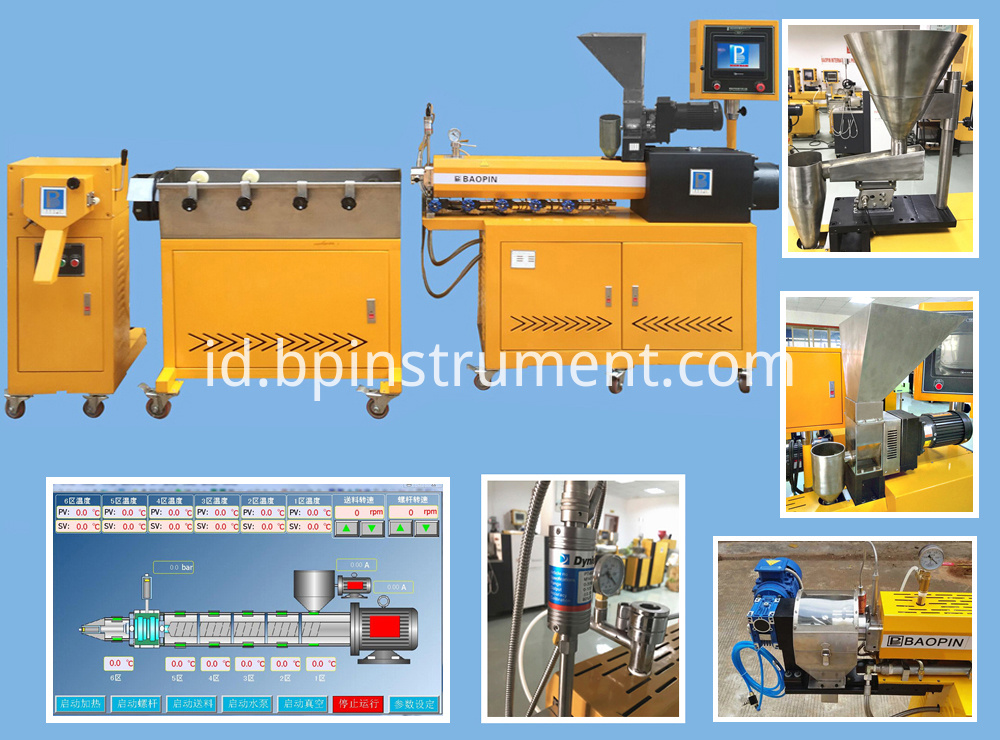 fitur
■ Diameter sekrup adalah 20, 25, 30 (opsional), dan rasio diameter panjang adalah 10 ~ 30 kali dapat opsional.
■ Bahan sekrup dan laras pengisian 40CrNiMo baja alat khusus yang sulit & tahan aus dan telah diproses melalui nitridasi, tempering, chromeplate dan super-presisi grinding.
■ The twin screw mengadopsi modus senyawa blok bangunan, termasuk blok bangunan menyampaikan benang sekrup, meremas blok bangunan, geser blok bangunan dan pengolahannya dll sekrup Suite terdiri dari blok-blok meremas dari sudut alternatif yang berbeda dan lebar dapat memenuhi geser yang berbeda kekuatan dan efek pencampuran yang dibutuhkan oleh produksi multi bahan dan dapat melakukan kombinasi terjadwal yang dijadwalkan sesuai dengan bahan apapun.
■ Kembar kombinasi komponen sekrup telah fungsi diri bersih seperti saling membersihkan diri dll dengan kecepatan tinggi berputar, mengurangi limbah bahan selama proses percobaan dan menghemat waktu bersih-bersih.
■ Laras pengisian dipanaskan oleh pemanas tembaga cor yang hanya dipelihara dan mudah diinstal dan biaya sedikit waktu pemanasan & heat rate yang tinggi, memastikan suhu yang diperlukan. Laras pengisian mengadopsi sirkulasi air lunak yang mendingin dengan efek pendinginan yang baik.
■ The mesin host kotak transmisi dan torsi pembagi dimasukkan ke dalam salah satu struktur yang ketat, operasi stabil dan torsi besar, sesuai untuk setiap output daya laju geser yang tinggi.
■ The dies mengadopsi loop menghubungkan cepat yang membuat pembongkaran cepat, mudah koneksi ke peralatan hilir dan waktu dan uji mentransfer hemat tenaga kerja.
■ opsional penyebar piring dan kandang mesh filter mencegah partikel dan kotoran non-moltened untuk meningkatkan tekanan mencair dan menjamin kualitas plasticizing.
■ Mesin ini memiliki stainless steel dilepas pendingin air wastafel dan perangkat dan pengeringan panduan roda nya mesin dengan perakitan sederhana dan cepat dan efek yang baik dari air pendingin dan penghapusan air kekeringan.
■ handpiece ini dilengkapi dengan converter cepat dan presisi tinggi mencair suhu & transduser tekanan, tekanan dari handpiece mendeteksi menjadi akurat dan dapat diandalkan. Kontrol kontrol gabungan sistem kontrol cerdas memegang fungsi alarm otomatis dan berhenti terkontrol secara otomatis.
■ PLC diprogram warna layar sentuh, manusia-mesin sistem operasi antarmuka, dinamis dapat menampilkan dan memantau proses ekstrusi, termasuk kontrol suhu, mengemudi, tekanan, saling fungsi menyebar.
Kategori Produk : Lab Extruder Series