Benchtop sekrup mini extruder kecil / kontrol PLC
Bench-top kecil screw extruder kembar cocok untuk kecil pencampuran bahan batch, plasticiz ing dan menyebar, yang ditampilkan oleh plasticizing homogenitas, pemeriksaan warna dan mengisi modifikasi. Dengan sistem kontrol PLC, bisa mengatur dan memantau semua parameter.
Bangku-top twin screw extruder kecil dan nyaman, itu adalah pilihan terbaik untuk uji laboratorium dan produksi skala kecil.
Parameter:
| | |
| --- | --- |
| Output | According to the raw material formulation process |
| Screw diameter | Φ20 mm |
| Length diameter ratio | 1:18 |
| Screw speed | 0 - 120 rpm frequency control |
| Power supply | 3 ∮, 50 Hz, 5 lines |
Keterangan:
1. Arah sekrup: Paralel dan arah yang sama
2. Senyawa Mode: Modus senyawa sekrup suite membangun blok spiral dan mesin barre adalah multi-bagian.
3. zona Pemanasan: Pengisian daerah barel memiliki 4 aluminium pemanas, 2 pemanas di handpiece dan luar ditutupi oleh penggemar keselamatan kerudung.
4. fasilitas Cooling: Multi-sayap kipas kekuatan pendinginan dalam kondisi super diam.
5. Sistem Mengemudi: Presisi bermotor pengurangan gigi dan perlambatan distribusi rotasi integrasi.
Sistem 7.Electric kontrol: PLC diprogram layar sentuh warna, manusia-mesin sistem operasi antarmuka.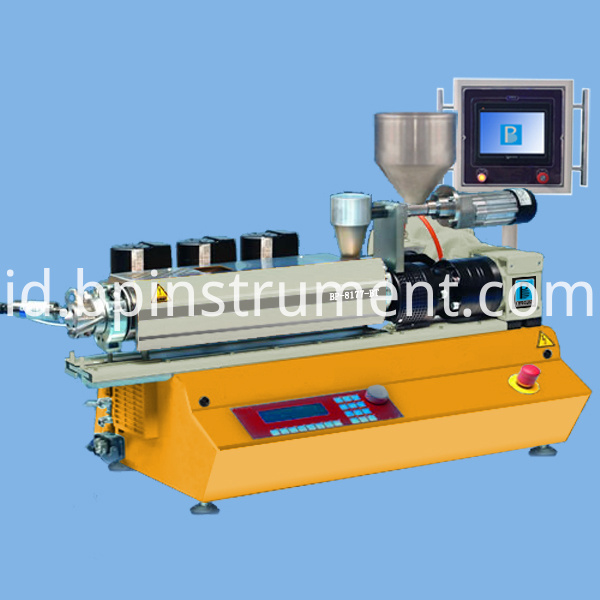 Kategori Produk : Lab Extruder Series