Pengendalian sekrup tunggal / kontrol PLC
The extruder sekrup tunggal untuk plastik dapat diterapkan untuk pencampuran, plasticizing dan ekstrusi berbagai jenis plastik rekayasa, plastik dimodifikasi, masterbatch dan polimer tinggi lainnya dengan fitur seragam tersebar, plastik mewarnai dan mengisi untuk memodifikasi. Ekstruder ulir tunggal sepenuhnya otomatis dan mudah dioperasikan.
parameter:
| | |
| --- | --- |
| Screw diameter | 16, 20, 25, 30 ( optional ) |
| Rotation speed | 0 - 95 rpm frequency control |
| Length ratio | 1:25, other length ratios ( 10 to 30 times ) are optional |
| Power supply | 3 ∮ , 50HZ, 5 line |
Keterangan:
Sistem 1. Control: PLC diprogram layar sentuh warna, manusia-mesin sistem operasi antarmuka.
2. Screw / Feeding barrel materia l: Ini terbuat dari 38 CrMoAlA kromium-molibdenum baja. Dengan pengolahan lapisan permukaan tempering, nitridasi, chroming, polishing dan super-precison grinding, kekerasan HRC 55 ~ 60, kekasaran RA≤ 0,4 μm, kedalaman nitridasi ≥ 0,6 mm.
3. Pemanasan zo n e: Mica heater di 3 bidang pengisian barel, pemanas di 2 bidang handpiece. Setiap daerah memiliki sirip pendinginan helikopter yang ditutupi dengan pelindung angin keamanan.
4. perangkat Cooling: Tiga kelompok penggemar multi-sayap untuk mendinginkan udara dengan tenang dan kuat.
5. Mengemudi moto r: Motor Presisi pengurangan gigi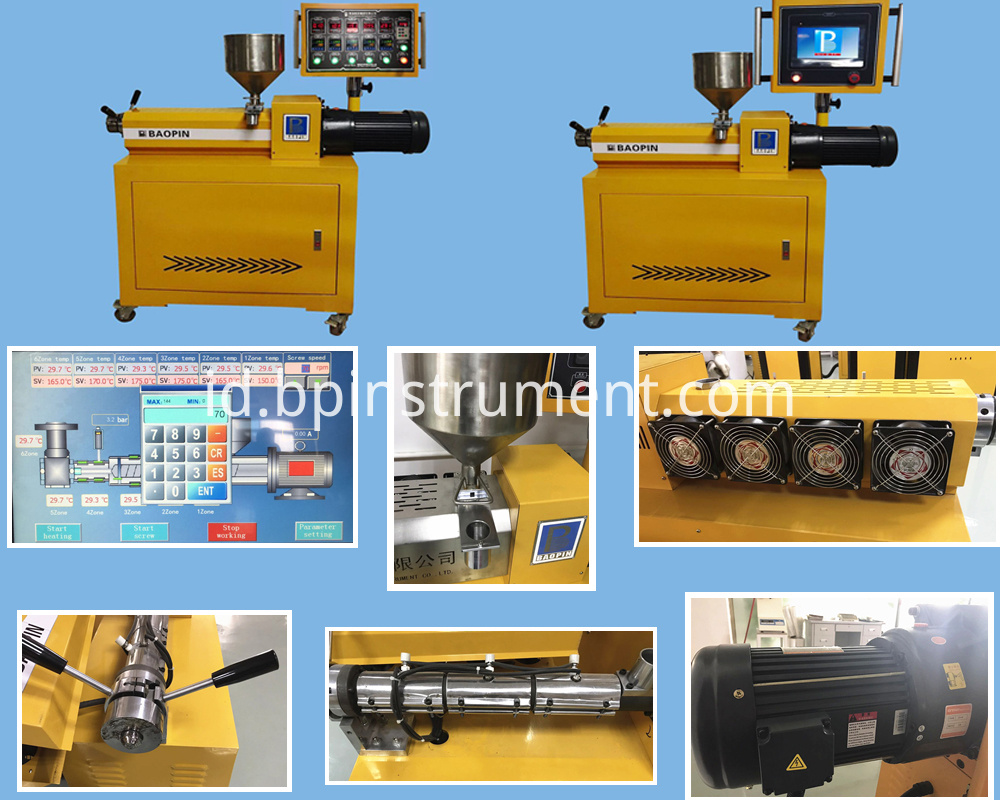 fitur
■ Diameter sekrup adalah 20, 25, 30 (opsional). Rasio durasi 10 sampai 30 kali bersifat opsional. Sehingga memperluas ruang lingkup berbagai pengolahan bahan.
■ Sekrup dan laras terbuat dari baja kromium-molibdenum 38CrMoAl. Dengan pengolahan permukaan-lapisan tempering, nitridasi, khrom dan super-presisi grinding. Jadi mereka keras dan tahan aus, tahan korosi.
■ Sekrup dengan zona makan, segmen transportasi, zona kompresi dan kepala pencampur. Hal ini dapat memproses berbagai bahan yang berbeda untuk mencapai efek dispersi terbaik.
■ Kontrol kecepatan stepless stepless 0-80rpm untuk memenuhi persyaratan proses ekstrusi bahan yang berbeda.
■ Pemanasan barel menggunakan pemanas koil listrik, perawatan mudah, mudah dipasang, pemanasan 5 zona dapat dipastikan suhunya mencapai yang dibutuhkan. Barrel mengadopsi 3 kelompok multi-sayap yang secara statis memaksa kipas pendingin, pemanas listrik dan tata letak terpadu angin, keseimbangan lindung nilai panas dan dingin untuk memastikan suhu konstan yang konstan.
■ Mati dengan gesper koneksi cepat, kepala pembongkaran cepat, koneksi mudah ke peralatan hilir dan konversi uji dengan cepat.
■ Pilihan untuk pelat pengalihan dan masker filter untuk mencegah partikel dan kotoran yang tidak tercoreng dan meningkatkan tekanan leleh untuk memastikan kualitas plastisisasi.
Kategori Produk : Lab Extruder Series